Reports By Power U Center For Social Change
Miami-Dade County Public Schools: The Hidden Truth
Power U Center for Social Change and Advancement Project, D.C. released a powerful report, Miami-Dade County Public Schools: The Hidden Truth. The report uplifts the experiences of local students in evaluating the extent to which the district has made progress on creating safe and supportive school environments that help students thrive in and beyond the classroom.
Reproductive Justice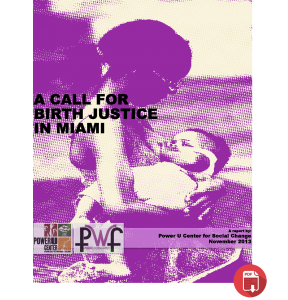 A Call for Birth Justice in Miami
A first of it's kind report outlining the relationship between breastfeeding and racial justice in Miami
Housing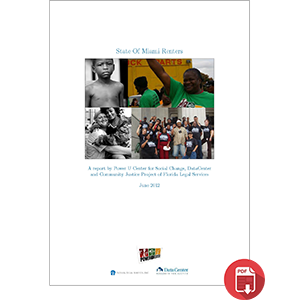 State of Miami Renters
A report produced along with Data Center and Community Justice Project as part of Power U's Renter
---
Restorative Justice Training Resources
Restorative Justice Training Institute
Restorative Justice Training Institute offers planning, training, coaching, curriculum development, research and evaluation for schools and organizations working with youth.
Restorative Strategies
Restorative Strategies' is working to expose schools, community based organizations, Corporate America and faith communities to the practical uses and application of restorative practices in all sectors of our community.
sujatha baliga – Restorative Justice Project of Impact Justice
sujatha is one of the leading trainers and practitioners of restorative justice in the United States.
International Institute for Restorative Practices
The IIRP Graduate School is the world's first graduate school wholly devoted to restorative practices. Our faculty — all scholar/practitioners — are dedicated to helping individuals find new ways to empower people and transform communities.
---
Resources from Friends and Allies
Ending the Schoolhouse to Jailhouse track – A Program of Advancement Project
For more great resources on the School-to-Prison Pipeline and the work being done to dismantle it, visit the website of our partners at Advancement Project.
Alliance for Educational Justice
AEJ is a national collective of approximately 30 intergenerational and youth organizing groups (including Power U) that work with local and federal policymakers to transform public education to a system that equally prepares all students – regardless of race or socioeconomic status – for college, meaningful employment, and full participation in democracy.
Dignity in Schools Campaign
DSC challenges the systemic problem of pushout in our nation's schools and advocates for the human right of every child to a quality education and to be treated with dignity.
Alliance to Reclaim Our Schools
AROS is a national alliance of parent, youth, and community organizations and labor groups fighting for educational justice and equity in access to school resources and opportunities.
Community Justice for Youth Network
CJNY is a program of the W. Haywood Burns Institute, whose core purpose is to protect and improve the lives of youth of color, poor children and their communities by ensuring fairness and equity throughout all public and private youth serving systems.
Critical Resistance
Critical Resistance seeks to build an international movement to end the prison industrial complex (PIC) by challenging the belief that caging and controlling people makes us safe.
Build the Wheel
Buildthewheel.org is being designed as an online, interactive, learning community where staff and community leaders from diverse organizations, neighborhoods, cities and issue areas can come together to build upon each others' practice, experiences and learning in popular political education and leadership development.
School of Unity and Liberation
SOUL is working to lay the groundwork for a strong social justice movement by supporting the development of a new generation of organizers rooted in a systemic change analysis -especially people of color, young women, queer and transgender youth and low-income people.